Welcome to the New Scalyr UI!
We have rewritten the Scalyr UI from scratch on a new technology stack while modernizing its look and feel. It is now generally available and should be the default when you log in.
Major areas of change include a revamped dashboard UI, dark mode, search helper, a drawer that shows log line details, and the ability to easily switch between old and new UIs, or between light and dark modes.
New Dashboard Features:
Graphs can be moved or resized via drag-and-drop

New visualizations (donut chart, pie chart, big number), as well as a markdown widget for notes:

A new page that lists all dashboards and their contents:
Additional improvements including the ability to save comparison graphs and distribution graphs on dashboards
Dark Mode
The most immediately noticeable change is the introduction of dark mode. You can easily switch between light and dark modes via the user menu.
Log Line Details
Clicking on a log line now opens a drawer that slides in from the right and shows the event's details (the same information previously shown in the Inspect Fields dialog). Once the drawer is open, the up and down arrows on the keyboard can be used to change which log line's details are displayed.
Similarly, the list of facets in the sidebar on the left supports up and down arrows to change which facet's details are being shown in the popup
Search Helper
The Search Helper is an enhanced autocomplete feature that helps you create search filters and Power Queries quickly and accurately. It is only available in the new UI on the Search and Power Query pages.
It appears below a search input when it has suggestions for you.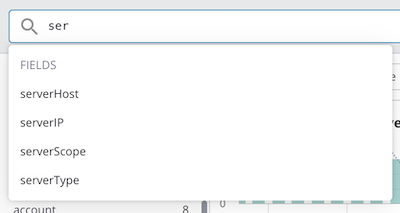 As you type, the Search Helper will show you a list of suggestions based on what you've typed so far and the page you're on. The suggestions are divided into sections by type. Suggestion types include field names, field values, functions, keywords, and operators.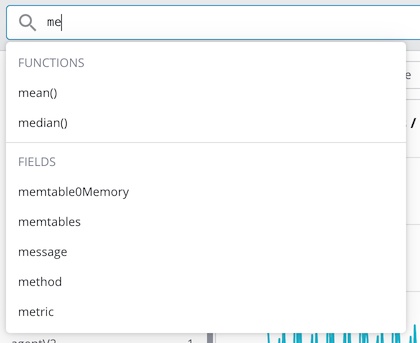 Field names and values are taken from those discovered during your current session. That means that the set of fields and values that are matched against is not exhaustive, and does not represent all of your data. If you have not run any searches (for example by going directly to the Power Query page), we will run a small search in the background to get some fields and values. Generally, if you have seen a field in the left sidebar, it is available to the Search Helper for matching.
For additional information and for future reference please see the online documentation located at .../help/search-helper (e.g. https://app.scalyr.com/help/search-helper).
Switching UIs
The old UI will remain available for a few more months in case of you encounter a critical issue in the New UI. You will still be able to easy switch back via the user menu:
If you find yourself switching back to the old UI, please let us know by contacting our support team.
Other Changes Include:
Help pages open in a new tab

A search can be edited while in Live Tail

Checking for more values in the facet details popup replaces the current values, rather than opening a separate dialog

Numerous cosmetic changes to UI widgets such as dialogs and buttons
Technical Details
The new UI is written in Typescript as a React-based web app, using GraphQL to talk to the backend via Apollo. We're confident that the new tech stack will accelerate innovation as well as maintenance. Not only will new features be developed at a faster pace, they will be delivered faster with our new Continuous Deployment pipeline. The build information for the UI can be seen at the bottom of the user menu.
Please refer to the New Scalyr UI Release Notes for further details.